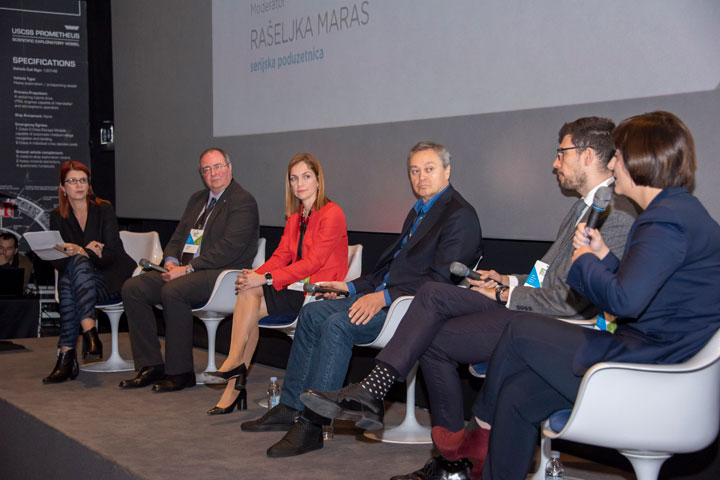 Rašeljka Maras, Dražen Kramarić, Ivana Parać Vukomanović, Zdenko Adrović, Vlaho Hrdalo i Marija Bošković Batarelo
Potrošači su danas u složenoj situaciji zbog kompleksnosti svijeta u kojemu živimo. Za potrošača koji sklapa ugovor o nekoj financijskoj usluzi upitno je koliko je zapravo upoznat sa svim rizicima koje ta usluga nosi. Ako se ta usluga pruža putem digitalnih kanala, pitanje je koliko je potrošač svjestan podataka koji se prikupljaju, u koje svrhe i gdje se sve mogu distribuirati. Odgovornost je na potrošaču, pružateljima usluga, kao i na regulatornim tijelima. Za zaštitu osobnih podataka nadležna je Agencija za zaštitu osobnih podataka (AZOP) i treba sustavno raditi na podizanju razine pismenosti, osvješćivanju i informiranosti o toj razini prava, rekla je Ivana Parać Vukomanović, direktorica Direkcije za financijsko i supervizorsko pravo HNB-a, u panel-raspravi na temu "Privatnost i digitalne financije" održanoj 12. studenoga 2019. u sklopu konferencije F2I – Future of Fintech & Insurtech.
Na temu HROK-a (Hrvatski registar obveza po kreditima) rekla je da je stav Hrvatske narodne banke kao regulatora uvijek bio da su kreditni registri koristan i potreban alat za upravljanje kreditnim rizikom, pri čemu njihov rad svakako mora biti usklađen s GDPR-om (Opća uredba o zaštiti osobnih podataka). Trenutno postoje ideje o načinu stvaranja pravne osnove za razmjenu podataka u okviru HROK-a. Naime, u trenutku stupanja na snagu GDPR-a procijenjeno je da HROK ne ispunjava propisane uvjete te je stoga prestao s radom. Trenutno je moguća samo ograničena razmjena podataka, i to isključivo o dužnicima koji ne ispunjavaju redovito svoje obveze, istaknula je Parać Vukomanović.
Govoreći o sprječavanju pranja novca Parać Vukomanović naglasila je da je trend u Europskoj uniji, a i šire, nulta tolerancija financijskih zločina, a u tom smjeru ide i HNB. Pri primjeni propisa o sprječavanju pranja novca svakako je potrebno voditi računa o propisima vezanima uz zaštitu osobnih podataka te ih primjenjivati na smislen način. Najavila je i otvaranje Inovacijskog HUB-a Hrvatske narodne banke krajem godine koji će pružati stručnu pomoć na manje formalan način nego dosad, i to subjektima koji nude inovacije u području pružanja financijskih usluga. To mogu biti i subjekti koji su već licencirani od strane HNB-a, ali i start-upovi, manja trgovačka društva i slično. Već pružamo jedan oblik takve pomoći Radnom skupinom Fintech, a cilj je promicanje inovacija uz prepoznavanje rizika, rekla je Parać Vukomanović.
"Ako ne plaćate uslugu, vrlo je vjerojatno da ste u toj transakciji upravo vi roba", misao je s kojom su se složili svi panelisti. Tu svatko od nas mora povući granicu tj. odrediti čega se voljan odreći u svrhu zaštite privatnosti. Regulatori mogu informirati, osvješćivati, sankcionirati, ali dio odgovornosti u smislu zaštite privatnosti uvijek je na osobi o kojoj je riječ, istaknula je Parać Vukomanović.
U panel-raspravi sudjelovali su i Vlaho Hrdalo (odvjetnik i predsjednik Udruge za blockchain i kriptovalute), Zdenko Adrović (Hrvatska udruga banaka), Dražen Kramarić (direktor Ureda za informacijsku sigurnost, Hanfa), Marija Bošković Batarelo (LL.M. Pravo i tehnologija) te Rašeljka Maras (serijska poduzetnica) kao moderatorica.