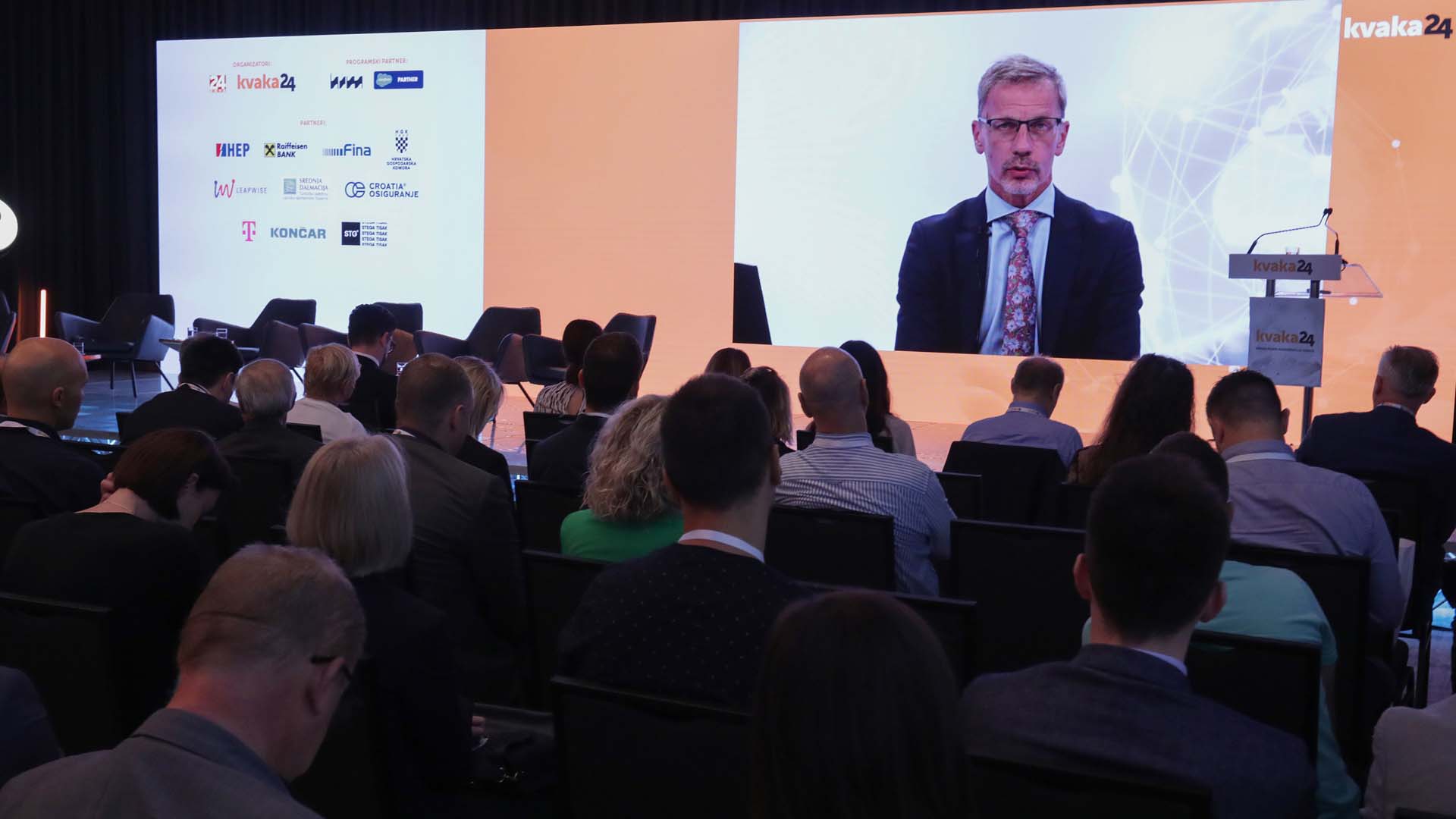 Izlaganje guvernera HNB-a Borisa Vujčića
Autor: Matija Habljak/PIXSEL
"Krajem prošle godine kad sam najavljivao prognoze za 2022. rekao sam da je pred nama vjerojatno još jedna ekonomska kriza, ali je bilo vrlo teško u tom trenutku predvidjeti kakve vrste će ona biti. Nažalost, vidimo da je ona geopolitička – imamo rat u Europi velikih razmjera koji apsolutno utječe na ekonomske perspektive i prognoze za ovu godinu. S druge strane Hrvatska će, nakon povoljne ocjene Ekonomske komisije, 1. siječnja 2023. ući u europodručje. Napredak na tom putu i potvrda spremnosti Hrvatske od strane Europske komisije znatno nam pomažu u nošenju s izazovima i ove nove krize", ustvrdio je danas guverner HNB-a Boris Vujčić na 2. biznis konferenciji 24sata "Hrvatska u novom ekonomskom okruženju".
Guverner je pritom naglasio da je inflacija počela rasti i prije početka vojnog sukoba u Ukrajini i to prvenstveno kao posljedica snažnog rasta potražnje nakon otvaranja gospodarstava poslije pandemije. "Neki od lanaca opskrbe i dalje su ostali blokirani zbog čega ponuda nije mogla dovoljno brzo odgovoriti na rast potražnje. To je uzrokovalo porast cijena kako pojedinih sirovina, tako i gotovih proizvoda. Početak sukoba u Ukrajini povećao je pritiske na cijene energenata i žitarica, proizvoda koje Ukrajina i Rusija izvoze. Posljedično je to utjecalo na smanjenje prognoza stope rasta gospodarstva u središnjoj i istočnoj Europi budući da su ta gospodarstva geografski bliža i gospodarski snažnije povezana s Rusijom i Ukrajinom nego što je to zapadna Europa.", istaknuo je Boris Vujčić.
"Zadnja prognoza World Economic Outlooka MMF-a predviđa rast za Hrvatsku od 2,7%, a uvjeren sam da će Hrvatska imati znatno višu stopu rasta u 2022. ukoliko se na jesen energetska kriza dodatno ne zaoštri. To bi moglo uzrokovati recesiju u nekim zemljama koje su naši glavni trgovinski partneri, a onda i usporavanje rasta u Hrvatskoj. Također, mislim i da će stopa inflacije biti viša od ranije prognoze – vjerojatnije je da će biti oko 9%", smatra guverner.
Kao odgovor na inflaciju, napomenuo je Vujčić, američka središnja banka je započela s dizanjem referentnih kamatnih stopa, a Europska središnja banka je najavila povećanje referentnih kamatnih stopa, što će se već odrazilo na trošak zaduživanja države. "Negativni trgovinski šok zbog rata u Ukrajini mogao bi, pak, u Hrvatskoj biti u znatnoj mjeri amortiziran dobrim rezultatima u turizmu", naglasio je guverner.
Vedran Šošić, glavni ekonomist HNB-a je na panelu posvećenom poslovanju i financiranju u novom ekonomskom okruženju kazao kako su u kratkom roku kretanja BDP-a povoljnija nego što smo svi očekivali, otključavanje gospodarstva bilo je brzo i snažno te će i rast biti znatno veći od aktualnih procjena MMF-a i HNB-a koje iznose 2,7, odnosno 3,3 posto. "Jako smo podcijenili učinak kraja pandemije, otključavanje gospodarstva i nagomilanu potražnju i štednju te veliku potražnju za uslugama. Djelatnosti s najvećim rastom u odnosu na 2019. su trgovina, ugostiteljstvo i smještaj, oni su rekorderi po oporavku, no dugoročno se rast usluga sigurno ne može nastaviti tim intenzitetom. Trenutno smo vrlo optimistični u pogledu gospodarskih kretanja u ovoj godini, no projekcije za iduću godinu bismo mogli revidirati na niže", naglasio je Šošić.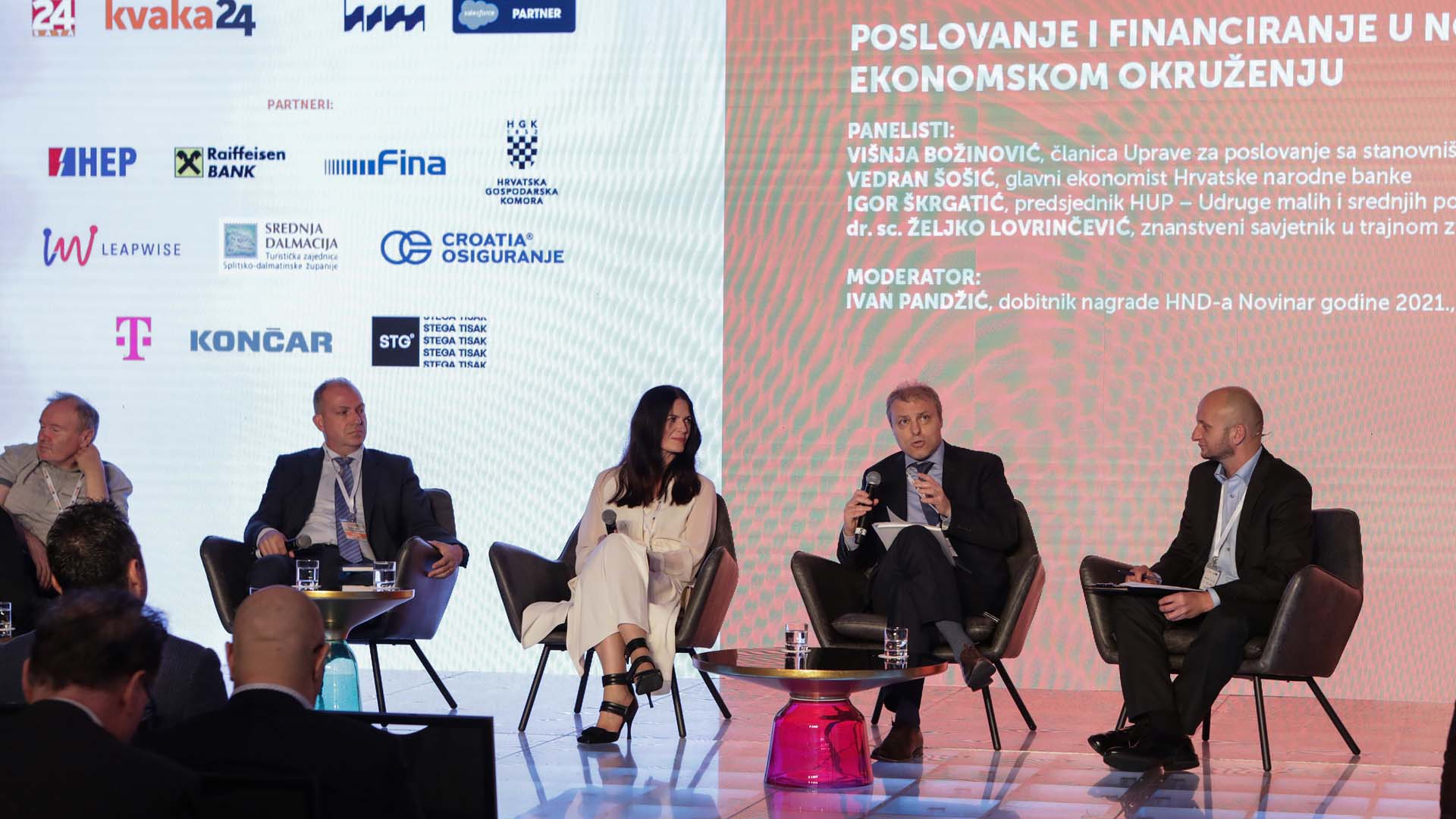 Panelisti Željko Lovrinčević, Igor Škrgatić, Višnja Božinović, Vedran Šošić i moderator Ivan Pandža
Autor: Matija Habljak/PIXSELL
Naše su se slabosti u pandemiji pokazale prednostima. Izvozimo uglavnom jednostavnije proizvode, poput hrane, koji ne ovise o dugim dobavnim lancima i zato je naš robni izvoz u pandemiji imao sjajne performanse. Isto je bilo i s turizmom koji je, također zbog tradicionalnih slabosti, poput dominacije gostiju slabije platežne moći koji dolaze vlastitim vozilima i velike zastupljenosti apartmanskog smještaja te izražene sezonalnosti, najmanje stradao u pandemiji u odnosu na mediteransku konkurenciju i najbrže se oporavio.
"U trenutnim izazovnim globalnim okolnostima, Hrvatska bi mogla, uvjetno rečeno, profitirati privlačenjem industrijskih investicija te se više uvezati u međunarodne proizvodne i dobavne lance u okviru nastojanja europskih poduzeća da skrate dobavne lance. U novom su se okružju stvorile prilike, ali treba ih prepoznati i iskoristiti", zaključio je glavni ekonomist HNB-a.