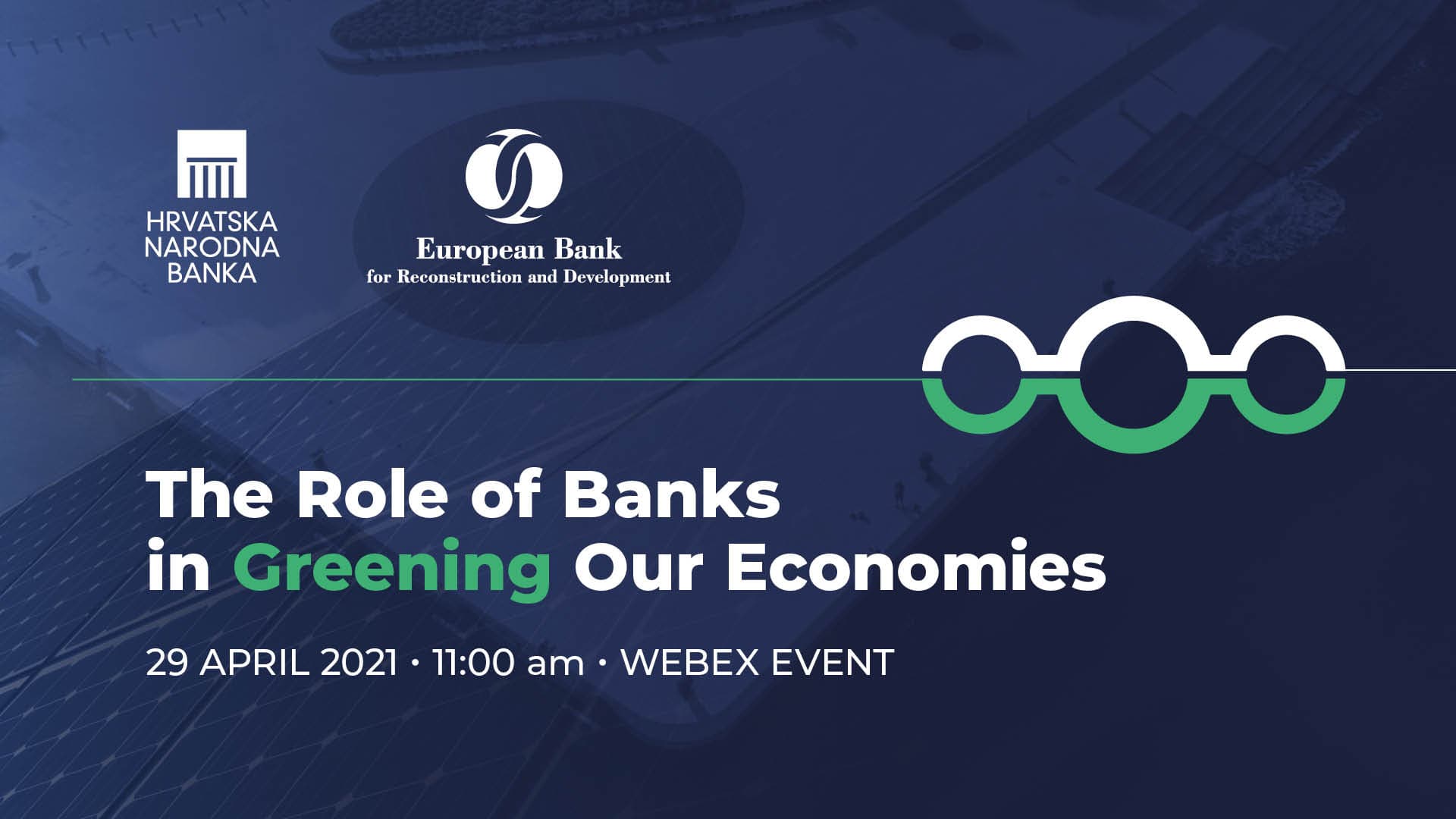 Hrvatska narodna banka (HNB) i Europska banka za obnovu i razvoj (EBRD) organiziraju skup The Role of Banks in Greening Our Economies koji će se održati online 29. travnja 2021.
Ciljevi su skupa povećati razumijevanje važnosti održivog financiranja i uloge banaka i regulatora u podupiranju klimatske tranzicije i zelenoga gospodarskog rasta.
U budućnosti će ključ uspjeha financijskih institucija biti razvoj novih poslovnih modela koji nadopunjuju model "zelene upotrebe sredstava" (engl. use-of-proceeds), uzimaju u obzir tržišna i regulatorna kretanja, uključuju okolišne rizike i koristi za okoliš u ocjenu investicijskih odluka te ispunjavaju očekivanja u vezi s objavom informacija o klimatskim rizicima. Ti novi poslovni modeli mogu pozitivno utjecati na gospodarski oporavak nakon pandemijske krize, koja bi u suprotnom mogla poremetiti prelazak na niskougljično gospodarstvo i postizanje nulte neto emisije ugljika u svijetu do 2050.
Sudionike će pozdraviti guverner HNB-a Boris Vujčić i Francis Malige, glavni direktor Financijskih institucija, EBRD.
Glavni govor održat će Frank Elderson, član izvršnog odbora Europske središnje banke, potpredsjednik Nadzornog odbora ESB-a i predsjedatelj Mreže za ozelenjivanje financijskog sustava (engl. Network for Greening the Financial System, NGFS).
U sklopu konferencije održat će se panel-rasprava o zelenom financiranju kao poticaju održivom rastu, a uz moderatoricu Sandru Švaljek, zamjenicu guvernera, HNB, raspravljat će Alberto Postigo, viši specijalist za kreditni rizik, Moody's, Andrea Pavlović, članica uprave, PBZ, Ian Smith, pomoćnik direktora, voditelj Intermediated Green Finance and Policy, EBRD, te Ian Cochran, Climate Action in Financial Institutions.
Na skupu će biti predstavljeni i rezultati istraživanja HNB-a o načinu na koji banke u Hrvatskoj promatraju i uvažavaju klimatske i okolišne rizike.
Skup pruža jedinstvenu priliku za informiranje i odgovara na pitanje kako se banke, uključujući one u Hrvatskoj, prilagođavaju i kako bi se mogle prilagođavati tržišnim promjenama te uključiti održivost u svoje strategije upravljanja portfeljem.
Radni je jezik skupa engleski, a sudjelovanje je isključivo uz poziv. Medijima će biti omogućeno online praćenje konferencije.