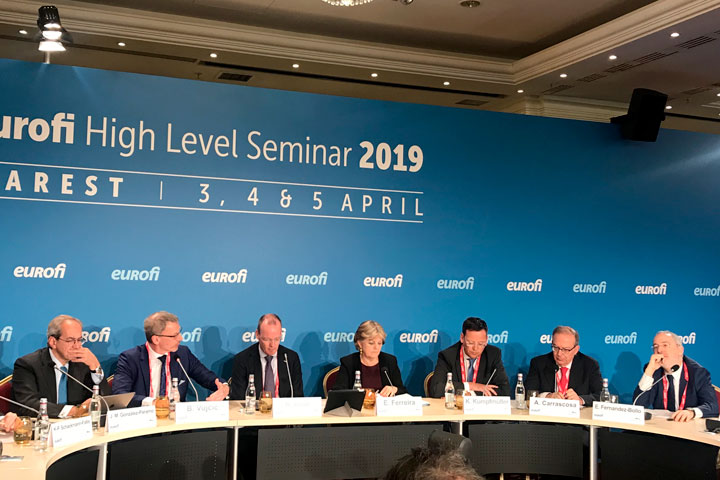 For big, systemically important banks, the robust and transparent Minimum Requirement for Own Funds and Eligible Liabilities (MREL) framework is of utmost importance, said Governor Boris Vujčić at the Eurofi High Level Seminar 2019 held in Bucharest from 3 to 5 April 2019.
Governor Vujčić emphasised that it is the responsibility of the Single Resolution Board (SRB) to ensure that during the transitional phase the banks build up adequate MREL and that at the end of the transitional period (in year 2024), both the Single Resolution Fund (SRF) and agreed resolution strategies become fully credible and operational for all significant banks and groups in the Banking Union. The current concept for less significant institutions (LSIs), where institutions are under supervisory and resolution frameworks developed by the European Central Bank and the SRB, but the ultimate responsibility rests with the national authorities, clearly undermines the credibility of the entire common regime. Therefore, the common regime for LSIs must have two main components, which are essential for the functionality of the entire Banking Union. One is harmonized insolvency proceedings for Banking Union banks, which must provide regulators the ability to remove failing institutions from the market in a swift and efficient manner without any costs from public funds, and without losing public confidence in the financial system. The other is the European deposit insurance scheme (EDIS), a mechanism which ensures that the ultimate responsibility for actions rests with the level where decisions are made.
Governor Vujčić participated in the roundtable "Developing an EU resolution approach for SSM banks" that discussed the priority areas for securing a common, transparent and predictable resolution regime. The participants assessed the specific contributions of EDIS to the key objectives of the Banking Union and the stumbling blocks that had to be overcome in order to move forward with the completion of the Banking Union.
Speakers at the roundtable also included Klaas Knot, President of the De Nederlandsche Bank and Vice Chair of the Financial Stability Board, Antonio Carrascosa, Member of the Board of the Single Resolution Board, Edouard Fernandez-Bollo, Secretary General of the Autorité de Contrôle Prudentiel et de Résolution, Elisa Ferreira, Vice-Governor of the Banco de Portugal, Klaus Kumpfmüller, Executive Director of the Austrian Financial Market Authority, José Manuel González-Páramo, Member of the Board of Directors of the Banco Bilbao Vizcaya Argentaria and Head of Global Economics and Public Affairs, and Karl-Peter Schackmann-Fallis, Executive Member of the Board of the Deutscher Sparkassen- und Giroverband.