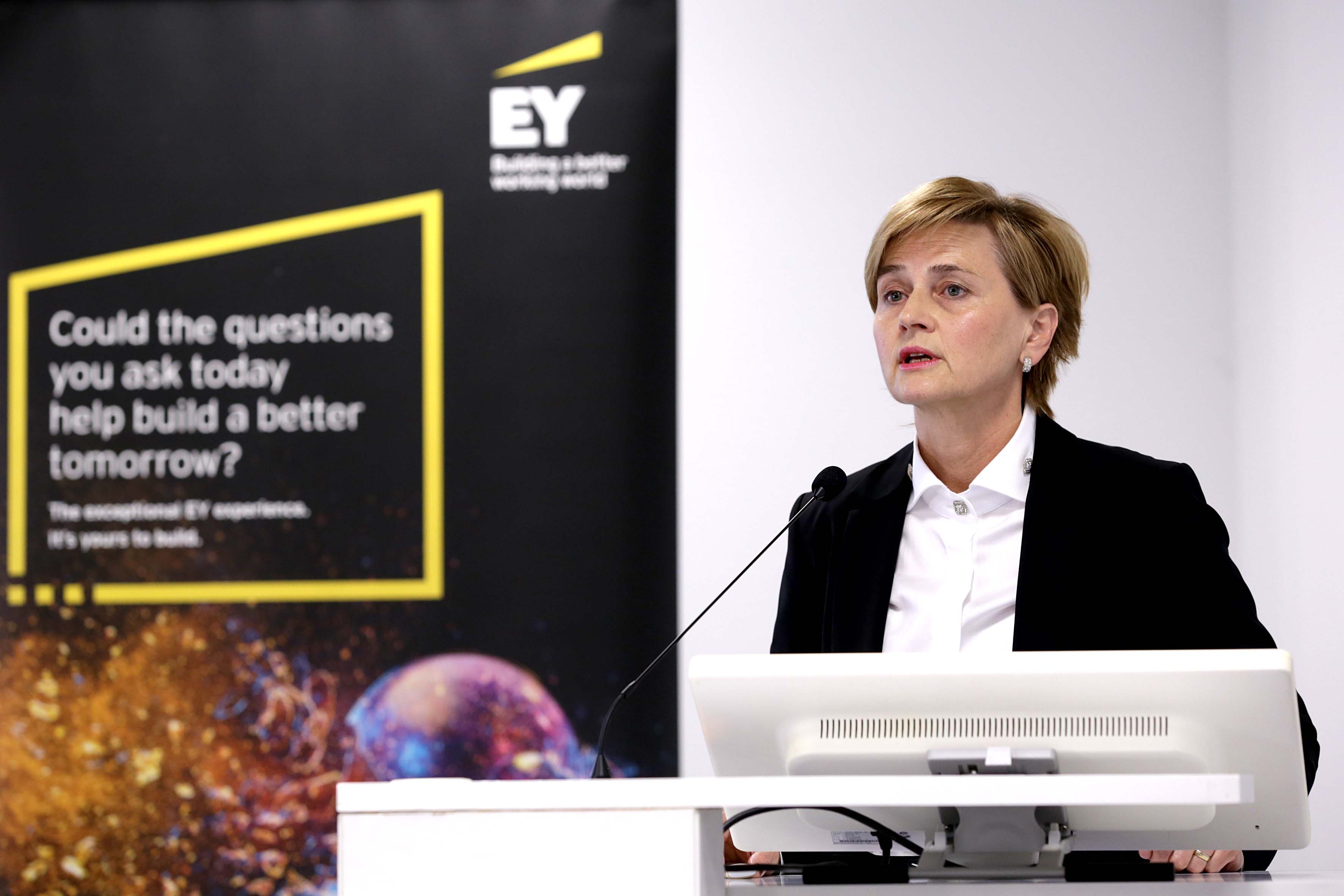 Sandra Švaljek, zamjenica guvernera
"Zbog kumuliranja ugljikova dioksida u atmosferi, prosječna globalna temperatura povećala se za jedan stupanj u odnosu na predindustrijsko razdoblje. Ako svijet nastavi godišnje emitirati 40 giga tona CO2 u atmosferu, već u roku od 8 godina potrošit ćemo tzv. budžet ugljikova dioksida koji nam je preostao do dosizanja porasta prosječne temperature za 1.5 stupanj u odnosu na predindustrijsko vrijeme. Taj 1.5 stupanj porasta temperature znači da će jedna osmina svjetskog stanovništva biti izložena ekstremnim vrućinama, dok bi u slučaju porasta temperatura za 2 stupnja ekstremnim vrućinama moglo biti izloženo više od četvrtine svjetskog stanovništva. Donedavno je bilo nezamislivo da se i središnje banke bave ovim temama, ali krizna situacija nas tjera na to jer klimatske promjene utječu na nas kao osobe, kao i na poduzeća, banke pa tako i na središnje banke", rekla je danas Sandra Švaljek, zamjenica guvernera HNB-a, na konferenciji "Održivo financiranje: međusobna očekivanja financijskog i realnog sektora" u organizaciji EY Croatia i Hrvatske udruge banaka te uz podršku Hrvatske udruge poslodavaca.
Ona je naglasila kako postoji dvosmjerni odnos u kojem financijske institucije, putem klijenata kojima su izložene, utječu na klimatske promjene, no isto tako klimatske promjene, ekstremne klimatski događaji poput suša, požara i poplava djelujući na klijente banaka utječu na same financijske institucije.
"Potrebna je velika koalicija svih institucija kako bi se poduprla klimatska tranzicija, uključujući središnje banke, banke i poduzetnike. Od 2015. godine, odnosno od potpisivanja Pariškog sporazuma, a osobito od uspostave Mreže za ozelenjivanje financijskih sustava 2017. vidljiva je eksploziju napora financijskih institucija i središnjih banaka u području klimatskih promjena. Iza nas je pet godina kanonizacije znanja, pet godina u kojima se bavimo identifikacijom i sistematizacijom podataka koji su nam potrebni da bolje prepoznajemo klimatske i okolišne rizike, uspostave metodologije i intenzivnog komuniciranja o ovoj temi. Hrvatska narodna banka uključena je na globalnoj razini u Mrežu za ozelenjivanje financijskih sustava, a na europskoj razini u razna tijela Europske središnje banke (ESB) i Europskog nadzornog tijela za bankarstvo koja se bave klimatskim aktivnostima, a unutar Bečke inicijative bili smo jedan od pokretača radne grupe za klimatske promjene. Iako shvaćamo potrebu bavljenja održivošću općenito, svjesni smo da živimo u vremenu klimatske krize, te smo usredotočeni prije svega na okolišni aspekt održivosti, odnosno na prepoznavanje klimatskih i okolišnih rizika", istaknula je zamjenica guvernera.
Govorila je i o razlozima uključivanja ESB-a u borbu protiv klimatskih promjena. Osnovni je razlog u tome što klimatske promjene utječu na njezin osnovni cilj, a to je očuvanje stabilnosti cijena. "Osim toga, s klimatskim promjenama i tranzicijom povezani su rizici za stabilnost bankovnog i financijskog sustava, kao i za imovinu u bilanci Eurosustava. Konačno, sukladno Ugovoru o EU, dužnost je ESB-a podupirati opće ekonomske politike unije ne dovodeći u pitanje stabilnost cijena. Ciljevi klimatskih aktivnosti ESB-a su upravljanje klimatskim rizicima, podupiranje zelene tranzicije i poticanje promjena u ponašanju. Prošle godine ESB je proveo istraživanje o tome kakva očekivanja građani imaju od ESB-a i tada je 25% njih ocijenilo da se ESB treba koncentrirati isključivo na stabilnost cijena, no više od 30% građana je reklo da se treba usmjeriti i na borbu protiv klimatskih promjena. Klimatska agenda danas je uključena u sva područja djelovanja kako Europske središnje banke, tako i većine drugih središnjih banaka eurosustava. Jedno od važnih područja našeg djelovanja je stvaranje ujednačene podatkovne osnove za ispravnu identifikaciju klimatskih i okolišnih rizika kojima su izložene kreditne institucije kroz svoje kreditne portfelje", objasnila je Švaljek.
Na kraju je naglasila da klimatska tranzicija nosi rizike, ali donosi i prilike. "Ono što je za poduzetnike bitno reći je da prelazak na niskougljično gospodarstvo otvara mogućnost za razvoj novih proizvoda, otvara tržišta za te nove proizvode, ali i otvara i cijeli ekosustav oko tih proizvoda - nove sirovine, nove tehnologije i izvore energije, nove vrste ambalaže i nove opskrbne lance. Svi koji budu uključeni u taj ekosustav imaju mogućnost gospodarskog prosperiteta. Klimatske promjene ne zahtijevaju niti dovode nužno do pada životnog standarda i urušavanja gospodarske aktivnosti – one su prilika za rast na novim osnovama", zaključila je Švaljek.