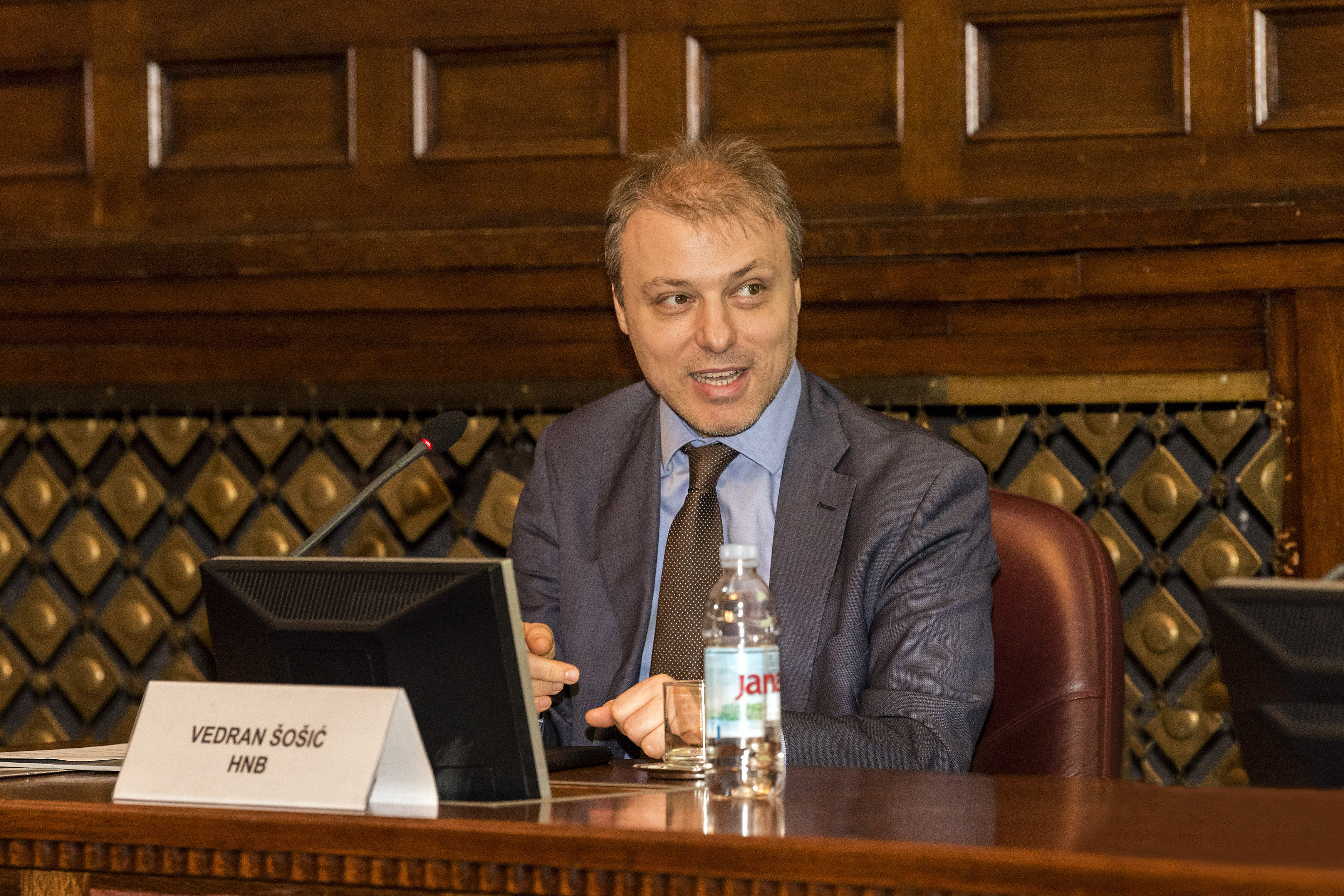 "Financial assets of households continue to grow steadily, despite very low yields and interest rates, which have, in real terms, even entered the negative zone. The strengthening of the role of retirement savings is conspicuous, which is accumulated based on binding regulations, as well as the increased significance of deposits in current and savings accounts," said Vedran Šošić, Chief Economist of the Croatian National Bank, speaking at the round table organised at the Croatian Chamber of Economy on 30 October 2019, marking the World Savings Day.
Interest rates have been held below inflation for some time, so that the value of the assets households keep with banks is decreasing, Šošić said, adding that it is obvious that households are looking for an alternative to investment in deposits and other forms of financial assets, which strengthens the traditional orientation towards investing savings in real estate. Croatian citizens are usually largely inclined towards investing in real estate; it is the country's specificity as financial assets are concentrated in a relatively small number of households, so that the majority of deposits account for 20 to 30 percent, while on the other hand, 90 percent of households have their own real estate. In contrast to Croatia, only half of the households in Austria have their own real estate, but many more of them have deposits with banks or some other form of financial assets.
Speaking about the implications of digital transformation for households and financial intermediaries (who collect and direct savings and investments of households), the CNB's Chief Economist said that central bankers are developing the concept of own digital money and mentioned Sweden as the example of a society that relies on cash only minimally. Some stores in Sweden do not accept cash any more, but use different forms of cashless payment. Therefore, a central bank's digital money might provide additional security to households in the situation in which payment operations are taken over by private infrastructure.
When commenting the main reasons for a large relative share of household deposits in foreign currency, Šošić explained that the cause lies in macroeconomic instability and a very high level of inflation in history: households learned that they could preserve the value if they converted their savings into German marks, later into euros. It cannot be expected with certainty that younger generations that have never experienced high inflation will give up the habit of saving in foreign currency. Therefore, the adoption of the euro is a better path to eliminating the high level of currency risk from the Croatian economy. In responding to the question on the households' main benefits from the adoption of the euro, Šošić explained that these include the elimination of currency risk, lower interest rates and savings on foreign exchange commissions. In addition to such direct benefits from the adoption of the euro, households would also have indirect benefits from larger economic growth due to better employment opportunities and higher salaries.
In addition to the CNB's Chief Economist, the participants in the panel discussion on the topic of "Significance of savings for households and the economy, the latest trends and financial literacy of young people" included Andrej Kopilaš, President of the Management Board of Slatinska banka d.d., Ivan Ostojić, Member of the Management Board of Wüstenrot stambena štedionica d.d., Danijel Miletić, Advisor to a Member of the Management Board of Zagrebačka banka d.d., Dajana Barbić from the Department of Finance of the Faculty of Economics and Business, Zagreb, and moderator Branka Prišlić, Senior Expert Associate at the Industry Sector of the Croatian Chamber of Economy.
In his opening speech, Zvonimir Savić, Managing Director of the Financial Institutions, Business Information and Economic Analyses Sector of the Croatian Chamber of Economy, said that despite the fact that time deposits still accounted for the largest individual share in total household deposits (48.4 percent), this share fell below a half of the total value of deposits for this first time this year. Foreign currency deposits prevail in time deposits, however, their share has also been falling since 2011. The analysis of the distribution of household deposits with credit institutions by region, i.e. county, shows that in addition to the City of Zagreb, deposits are concentrated in coastal counties. All coastal counties, with the exception of Lika-Senj County, are among the top ten counties with the largest deposit values. Thus, on 30 June 2019, the residents of seven coastal counties had HRK 82.9bn deposited with credit institutions, or 41.7 percent of the value of deposits of all Croatian households.
Housing savings are still the second most popular financial product for households, after standard bank deposits. According to estimates, over 70 percent of all deposits households keep with housing savings banks are mostly used either for the purchase of residential real estate property or for improving the existing housing standard, Ivan Ostojić said. According to the latest financial literacy survey conducted among young people, over 70 percent of students rarely or almost never seek information on finance, and only 41 percent of them allocate a share of their income to some form of savings, said Dajana Barbić and emphasised that the current situation in Croatia indicates a still low level of financial literacy, inadequate financial habits and poor understanding of risks to which households are exposed.