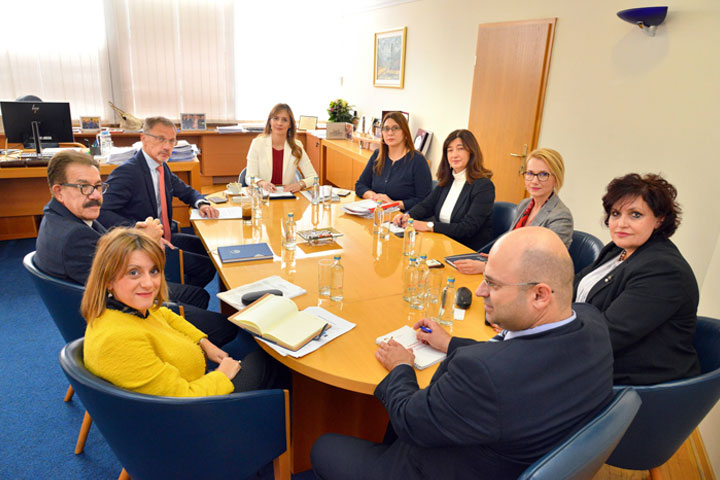 It is our priority to strengthen the financial stability of the region by working and continuing to work together within our mandate. In this context, we continue to exchange opinions and experiences about the supervision and regulation of banks, in particular with regard to the implementation of international standards and prudential principles. These are some of the messages the Governor of the National Bank of the Republic of North Macedonia Anita Angelovska-Bežoska and the Governor of the Croatian National Bank Boris Vujčić sent during the first part of the meeting held today in Skopje.
The Governor of the Croatian National Bank is visiting the Republic of North Macedonia at the invitation of Governor Anita Angelovska-Bežoska. The aim of the two-day visit is the continuation of the ongoing talks, emphasising the strengthening of bilateral cooperation within the framework of a memorandum between the two central banks. Another topic of discussion includes cooperation that will be improved additionally through the exchange of experiences with regard to central bank statistics, research and economic modelling, as well as payment services and payment systems.
Governor Vujčić said that by implementing reforms, improvements in legislation and through the projects implemented in the past period, the National Bank of the Republic of North Macedonia had achieved remarkable results by applying a large part of the best European and international practices. It is an additional motive for Croatia to continue being this central bank's partner and advocate, the CNB's Governor added.
Governor Angelovska-Bežoska thanked Governor Vujčić for the support provided so far, in particular within the EU-funded projects. In this context, the two Governors also discussed the project of the strengthening of the institutional capacity of the National Bank of the Republic of North Macedonia in the process of its accession to the European System of Central Banks (ESCB) and assessed that the project is very important, in particular because it covers the four key areas of central banking. The project is implemented in partnership between the CNB and the Deutsche Bundesbank. It was concluded that the project would also contribute to the improvement of reputation of the regional community of central banks.
During Governor Vujčić's visit, all areas in which the communication between experts from the two central banks can be intensified will be discussed in more detail, with the aim of promoting central banking across the region.