60% of Croatian firms say climate change is having a negative impact.
85% are taking action to reduce greenhouse gas emissions.
Most navigated the pandemic better than expected, but new shocks are testing their resilience.
Energy costs emerge as a key concern for firms, together with uncertainty and skills gap.
Economic expectations have turned negative, but Croatian firms remain more optimistic than the EU average.
The European Investment Bank (EIB) launched its annual EIB Investment Survey at an event organised with the Croatian National Bank today. The survey interviewed over 12 000 companies across the European Union (including 481 in Croatia) and 800 US firms. Keynote speeches by EIB Vice-President Teresa Czerwińska, Governor of the Croatian National Bank Boris Vujčić and Croatian Minister of Finance Marko Primorac, as well as presentations by Director of the EIB Economics Department Debora Revoltella, described the state of the Croatian economy, companies' perceptions of the challenges they face and opportunities provided by Croatia's accession to the euro and Schengen areas.
The survey shows that the Croatian economy bounced back from the COVID-19 crisis in less than two years, but vulnerability persists in the face of new shocks. In 2022, nine out of ten firms expected their sales to be at pre-pandemic levels or higher and reported new investments. Yet, firms' expectations about the economic and political climate, business prospects and the availability of finance saw a downward trend. Still, on average Croatian businesses are more optimistic than the overall EU outlook. For nine out of ten firms, energy costs emerged as a top long-term investment constraint in Croatia, together with the availability of skilled staff and uncertainty about the future.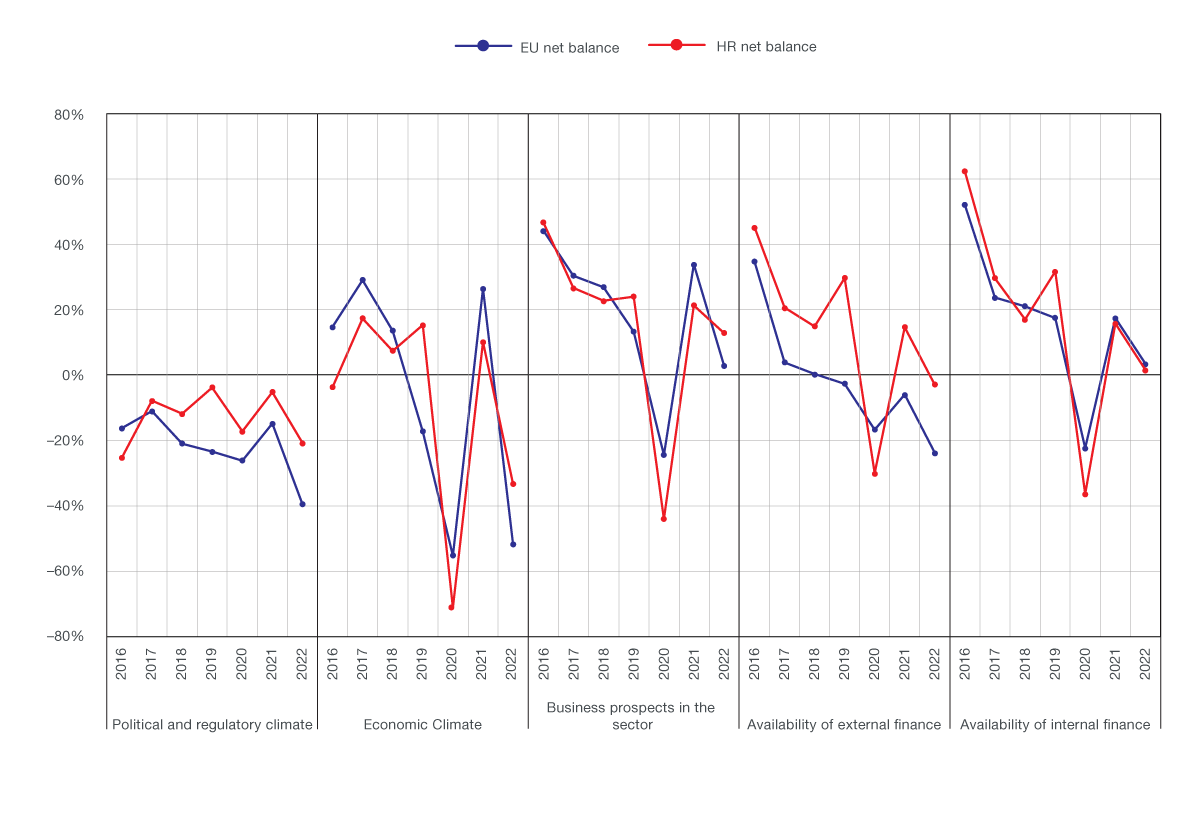 Source: EIB Investment Survey 2022. Question: "Do you think that each of the following will improve, stay the same, or get worse over the next 12 months?" *Net balance is the share of firms seeing improvement minus the share of firms seeing a deterioration.
Climate and energy: Croatian firms are taking action to transform
The survey shows that nearly six in ten firms in Croatia report that weather events negatively affected their business. One in three Croatian firms have already developed or invested in measures to build resilience against the physical risks caused by climate change.
The energy crisis amplified concerns about rising energy prices, with nine in ten firms citing energy costs as a long-term investment concern. Some 36% of firms in Croatia have invested to enhance energy efficiency in the last year, close to the EU average of 40%. Firms invest more in energy efficiency if they are large, and if they have felt the impact of climate change and energy costs.
Access to finance remains worrisome. 10% of firms in Croatia are financially constrained. This is above the EU average (6%) and corroborates a long-standing pattern. Finance-constrained firms include those dissatisfied with the amount of finance obtained, firms that sought external finance but did not receive it, and those who did not seek external finance because they thought borrowing costs would be too high or they would be turned down.
"Recovery from the pandemic in Croatia has been fast and effective and I congratulate the Croatian government for their handling of the crisis," said Vice-President Czerwińska. "Today, following the Russian aggression in Ukraine, new challenges are emerging that threaten sustainable economic and social growth in Croatia and the European Union. As our semi-annual investment survey shows, the energy crisis has increased concerns among Croatian companies due to rising energy prices. Like in previous crises, the EIB Group is ready to support firms in Croatia to weather this latest challenge too. We plan to mobilise up to €115 billion in new investment by 2027 to support the REPowerEU plan to diversify sources of secure, clean energy, speed up the energy transition and improve energy efficiency across the European Union. The EIB Group is ready to ensure Croatia can benefit as much as possible from this major investment drive."
According to Debora Revoltella, Director of the EIB Economics Department, "In the current economic environment, protecting investments and taking advantage of synergies between the public and private sector is crucial to boosting economic recovery and increasing resilience. Using all financing available to Croatia, including EU funds from the Recovery and Resilience Facility, Invest EU and 2021-2027 operational programmes is key. Blending the available EU grant resources with loans, equity, own resources or other forms of financial instruments will be crucial to mastering the transition towards a more digital and greener economy in Croatia and across the European Union. Moreover, to encourage firms to invest, governments should help reduce uncertainty and remove red tape, and provide incentives for innovation and skills development."
Croatian firms' long-term barriers to investment (% share of firms)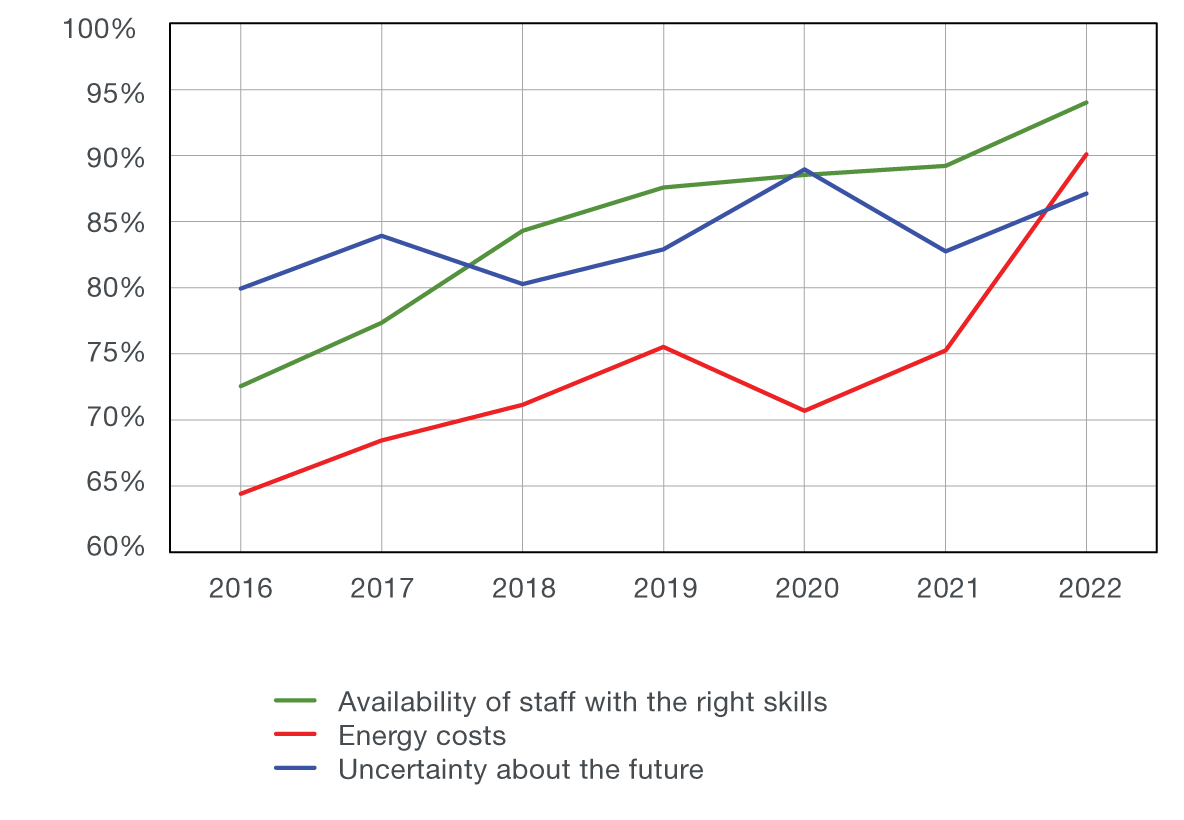 Source: EIB Investment Survey 2022. Question: "Thinking about your investment activities, to what extent is each of the following an obstacle? Is it a major obstacle, a minor obstacle or not an obstacle at all?"
The Governor of the Croatian National Bank Boris Vujčić said: "It is logical to expect that integration into the euro and Schengen areas would boost growth and generate new investment, as investment trends are supposed to reflect the underlying macroeconomic conditions in a country. That said, we cannot forget the complexity of the current environment marked by high inflation, and high uncertainties about future global trends, both economic and geopolitical. And on top of this, the outlook is clouded by the pressing climate-related risks that affect every area of our businesses and lives, and that need to be addressed in parallel with the short-term challenges."
Background information
The European Investment Bank (EIB) is the long-term lending institution of the European Union owned by its Member States. It makes long-term finance available for sound investment in order to contribute towards EU policy goals.
About the Economics Department of the EIB
The EIB Economics Department provides economic research and studies, as well as unique analyses of investment activities in the European Union and beyond. It supports the Bank in its operations and in the definition of its positioning, strategy and policy. Chief Economist Debora Revoltella heads the department, a team of 45 economists.
Press contacts
Eva De Francesco, eva.defrancesco@eib.org, tel.: +352 437 986 637, mobile: +352 691 289 150
Website: www.eib.org/press — Press Office: +352 4379 21000 — press@eib.org