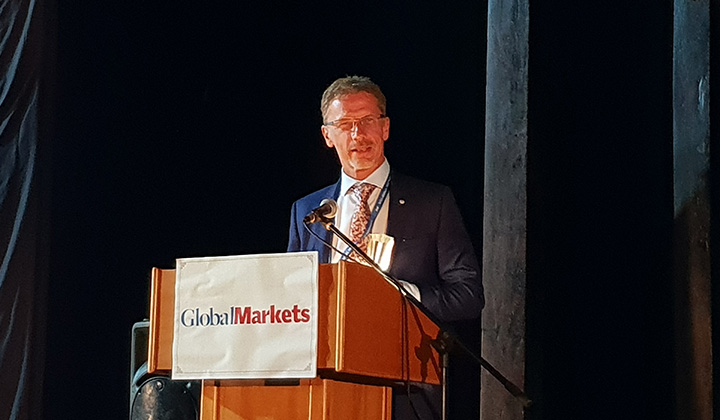 The governor addresses the participants after presentation of the award for the Governor of the Year, Central and Eastern Europe.
The governor of the Croatian National Bank, Boris Vujčić, was voted Central Bank Governor of the Year, Central and Eastern Europe. The Croatian governor was given this recognition by publication GlobalMarkets which monitors the work of annual meetings of the International Monetary Fund and the World Bank and many other international financial institutions.
The explanatory statement addressed to the governor stressed the importance of the governor for this successful but small economy in a region struggling in the face of another round of emerging market turbulence. According to the editorial team of GlobalMarkets, the value of governor's work was underlined in July 2018 when he was backed to lead the Croatian central bank for a second, six-year term. The Croatian National Bank is focused on the exchange rate, with the aim of entering the European common currency's "waiting room" by 2020, by keeping the kuna anchored to the euro. Croatia is faced with challenges, primarily with a relatively high public debt level which in 2017 stood at 78% of GDP. Nevertheless, Croatia is also on the right fiscal path, analysts and economists say, with its international reserves reaching an all-time high of EUR 16.5bn (USD 19.3bn) in June. "Vujčić is doing a tough job well", said the chief economist of a Central and Eastern Europe focused bank in the concluding part of the award statement.
Asked what this recognition means for him, Governor Vujčić replied: "I am very glad to receive this award; I see it primarily as a reward for all Croatian National Bank employees and for what the CNB has done in recent years. We have managed to achieve our legally prescribed objectives; i.e. we have managed to maintain the exchange rate and financial stability against the backdrop of long recession. We have also preserved banking system stability which emerged from the crisis even stronger without any cost to the taxpayers. We will, therefore, in the forthcoming period, on our path to the euro, do our best to predict future events well and to take timely measures within our competence."
GlobalMarkets is an international specialised publication issued by Euromoney Trading Ltd. The GlobalMarkets Award has been presented since 2004 to the best finance ministers and central bank governors of emerging markets. In addition to Central and Eastern Europe, other five regions, such as for instance, Southeast Asia and Latin America, are included.