Are Shadow Banks Hiding in Croatia as Well?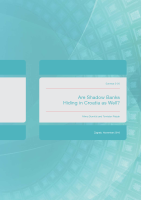 | | |
| --- | --- |
| Publication | Surveys |
| Issue | S - 20 |
| Authors | Mirna Dumičić and Tomislav Ridzak |
| Date | November 2016 |
| JEL | E51, F34, G01, G21, G23 |
| ISSN | 1334-014X |
Keywords
shadow banks, banking sector, non-bank financial institutions,macroprudential policy, financial stability, systemic risks, Croatia
This paper aims to shed some light on the term shadow banking and the importance of examining shadow banks and their activities from the point of view of financial stability.
In this context, an analysis was made of the domestic financial system and business practices in order to assess the role of shadow banks in Croatia and identify systemic risks that may arise from that source. The analysis results suggest that
the share of non-bank financial institutions and the maturity structure of their liabilities and claims do not currently pose a risk that could threaten financial stability. However, potential systemic risks are associated with the high level of shortterm exposures of non-bank financial institutions to banks, the substantial exposure of some of them to the government, and the strong reliance of some institutions on foreign financing sources. The group of other financial intermediaries, including leasing, factoring and credit unions, stands out among the most risky institutions.