EU Criteria with Special Emphasis on the Economic Convergence Criteria - Where is Croatia?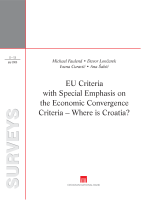 | | |
| --- | --- |
| Publication | Surveys |
| Issue | S - 13 |
| Authors | Michael Faulend, Davor Lončarek, Ivana Curavić and Ana Šabić |
| Date | July 2005 |
| JEL | F15, O52 |
| ISSN | 1334-014X |
Keywords
European Union, Croatia – candidate country, convergence criteria
The fulfilment of the convergence criteria, better known as the Maastricht criteria, is not a precondition for EU accession, but is a precondition for the adoption of the euro as a national currency. Only after a country becomes an EU member it can, subject to the fulfilment of the convergence criteria and successful participation in ERM II, be authorised to adopt the euro. This paper is focused on the (economic) convergence criteria. In addition to providing a methodological insight into each of these criteria, it discusses and analyses relevant Croatian indicators. An important goal of the paper is to assess the harmonisation of present Croatian indicators with the Maastricht criteria and examine whether these indicators can be used to compare Croatia with other countries, the present and future EU members. In this sense, the paper also indicates the areas where progress is yet to be made in order to attain a favourable starting position for participation in ERM II (once Croatia enters the EU) and the prospective adoption of the euro as the national currency.