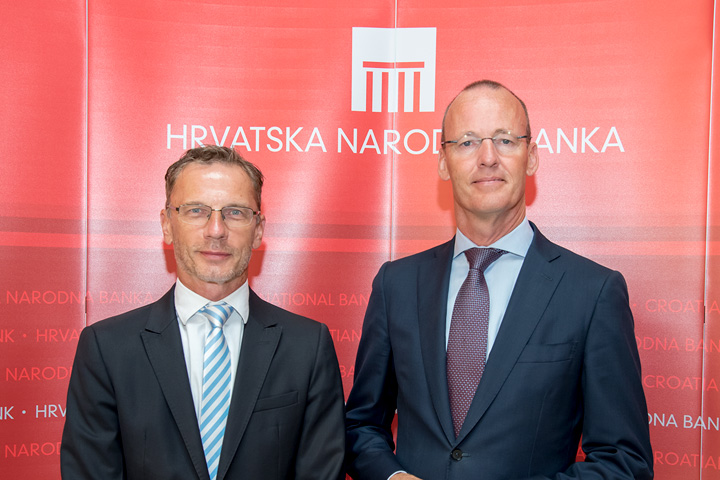 The President of the central bank of the Netherlands (De Nederlandsche Bank, DNB), Klaas Knot gave a speech on 25 August 2016 at the Croatian National Bank before the representatives of embassies, the academia, the business community, numerous economists and the media, entitled "Policy challenges in the European (monetary) union: a central banker's perspective".
Introducing the President of the central bank of the Netherlands, the Governor of the Croatian National Bank, Boris Vujčić, noted that the programme of monetary easing of the European Central Bank produced both positive and negative effects, the fact particularly visible in the sovereign bond market.
The speech given by President Knott focussed on the European Central Bank which, in response to the crisis and the low inflation environment, took both conventional and unconventional monetary policy measures. Supported by the accommodative monetary policy stance, the euro area economy is recovering. However, it was emphasised that monetary policy could not substitute for structural adjustments and that pursuing accommodative monetary policy for a prolonged period might give rise to financial stability risks.
Economic vulnerabilities in individual countries have been reduced and the monetary union has become stronger in key areas. Despite these improvements, the strengthening of the monetary union is not yet complete. It was said in conclusion that further European integration was desirable, with a proper balance between risk sharing and economic coordination.
Klaas Knot has been President of the central bank of the Netherlands (De Nederlandsche Bank, DNB) since 1 July 2011. By virtue of his position, he holds seats on the Governing Council and General Council of the European Central Bank, as well as on the Financial Stability Board, besides being a Governor of the International Monetary Fund. Before joining the Governing Board, Mr Knot was Deputy Treasurer-General and Director of Financial Markets at the Dutch Ministry of Finance (2009– 2011). Earlier, from 1995, he worked for DNB for almost twelve years, in positions including Economic Policy Officer and Director of the Supervisory Policy Division. At different intervals during this period, Mr Knot was employed by the International Monetary Fund (1998- 1999) and the former Pensions and Insurance Supervisory Authority of the Netherlands (2003- 2004).
In 1991, Klaas Knot graduated with honours in General Economics at the University of Groningen. In 1995, he obtained a doctorate in Economics. Klaas Knot was born in Onderdendam on 14 April 1967.