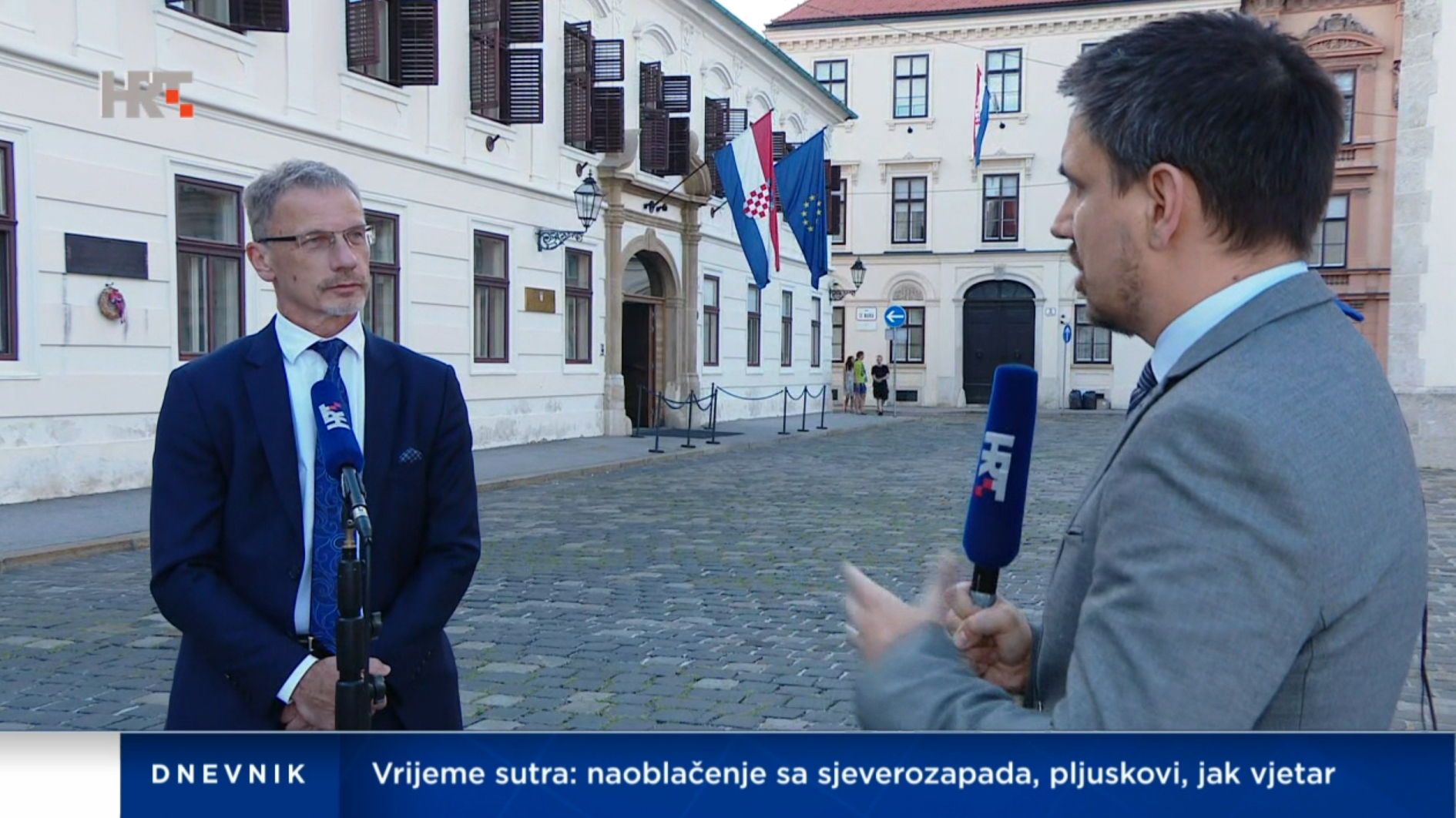 S guvernerom Boris Vujčićem za Dnevnik 2 Hrvatske radiotelevizije razgovarao je Mladen Sirovica.
O ulasku Hrvatske u eurozonu razgovaramo s guvernerom Hrvatske narodne banke Borisom Vujčićem. Gospodine Vujčiću, dobra večer!
Dobra večer!
Evo čuli smo, dakle, ulazak Hrvatske u ERM II. Kad vi očekujete zapravo da bi Hrvatska mogla postati članica eurozone?
Hrvatska će postati članica eurozone onog trenutka kada ispuni sve kriterije konvergencije. Ovim danas danom je praktički Hrvatska izašla iz političke sfere odluke o ulasku u eurozonu. Do sada je to bila i ekonomska i politička odluka, nakon današnjeg dana ulaskom u ERM isključivo ovisi o tome kada će Hrvatska ispuniti pet nominalnih kriterija konvergencije koji se tiču inflacije, tečaja, budžetskog deficita, javnog duga i kamatnih stopa. Onog trenutka kad ti kriteriji budu kvantitativno zadovoljeni, Hrvatska će automatski ući u eurozonu. Najprije moguće kao što znamo je to 1. siječnja 2023. godine.
Dakle više ni jedna država da preciziramo ne može reći za, primjerice, godinu ili dvije iz nekih svojih političkih razloga mi bismo sad blokirali ulazak Hrvatske u eurozonu?
Ne, današnjom odlukom taj je proces izašao iz političke sfere.
Neizbježno je pitanje zapravo vezano za te ekonomske kriterije značajan rast duga i deficita. Koliko to može usporiti naš put u eurozonu, za očekivati je da će ta dva parametra eksplodirati u sljedećem razdoblju?
Ove godine deficit će biti budžetski vrlo velik i uzrokovat će vrlo visok rast javnog duga uz pad BDP-a. Međutim, kriterij za ulazak u eurozonu kaže sljedeće: da budžetski deficit mora biti manji od 3% BDP-a, što bi po našim prognozama i prognozama Europske komisije Hrvatska trebala ostvariti već 2021. godine, a drugi kaže da se javni dug mora smanjivati za jednu dvadesetinu razlike između sadašnje razine javnoga duga i 60%, što će za Hrvatsku vjerojatno značiti jedan cijelih nešto posto BDP-a. Što opet po našim prognozama, po prognozama Europske komisije bi trebalo biti moguće učiniti već iduće godine, tako da Hrvatska bez obzira na ovo što se dogodilo 2020. ima dobru šansu da zadovolji uvjete za ulazak u eurozonu.
Čuli smo koji će biti taj središnji paritet, 7,53. Koliko će ta finalna konverzija zapravo biti na tragu tog pariteta?
Pa ona će biti blizu toga traga, ova razina tečaja je sada, ja bih rekao, dobra indikacija gdje će otprilike tečaj biti pri ulasku u eurozonu, o tome ćemo razgovarati prije samog ulaska u eurozonu, to ćemo znati šest mjeseci prije ulaska u eurozonu. Ali to je otprilike razina tečaja gdje smo mi zadnjih 25 godina već bili i što se tiče tečajne politike Hrvatske narodne banke ja mislim da tu treba naglasiti da se ništa neće promijeniti. Naš će tečaj ostati stabilan, na isti način na koji smo tečajnu politiku vodili zadnjih 25 godina.
Najveća bojazan građana je rast potrošačkih cijena, kako to spriječiti?
Ono što treba učiniti, a to nam govori iskustvo drugih zemalja, je prije samog uvođenja eura imati dvostruko iskazivanje cijena.
Koliko će ono trajati?
Pa ono može trajati prije najduže šest mjeseci, jer ćemo znati šest mjeseci unaprijed tu odluku, i nakon toga barem šest mjeseci tako da se građani priviknu na cijene iskazane i u kunama i u euru i da im ne može sutradan netko nakon ulaska u eurozonu reći: gledaj sad, odjednom ti je ta cijena porasla 20%. Iskustvo drugih zemalja pokazuje da su u prosjeku cijene porasle 0,23%, što nije puno, ali zemlje koje su imale takav način iskazivanja cijena unaprijed su imale manji rast cijena nego one koje nisu. Tako da ćemo mi sigurno koristiti pozitivna iskustva onih zemalja koje su već uvodile euro.
Gospodine Vujčiću, hvala vam na razgovoru!
Hvala Vama!