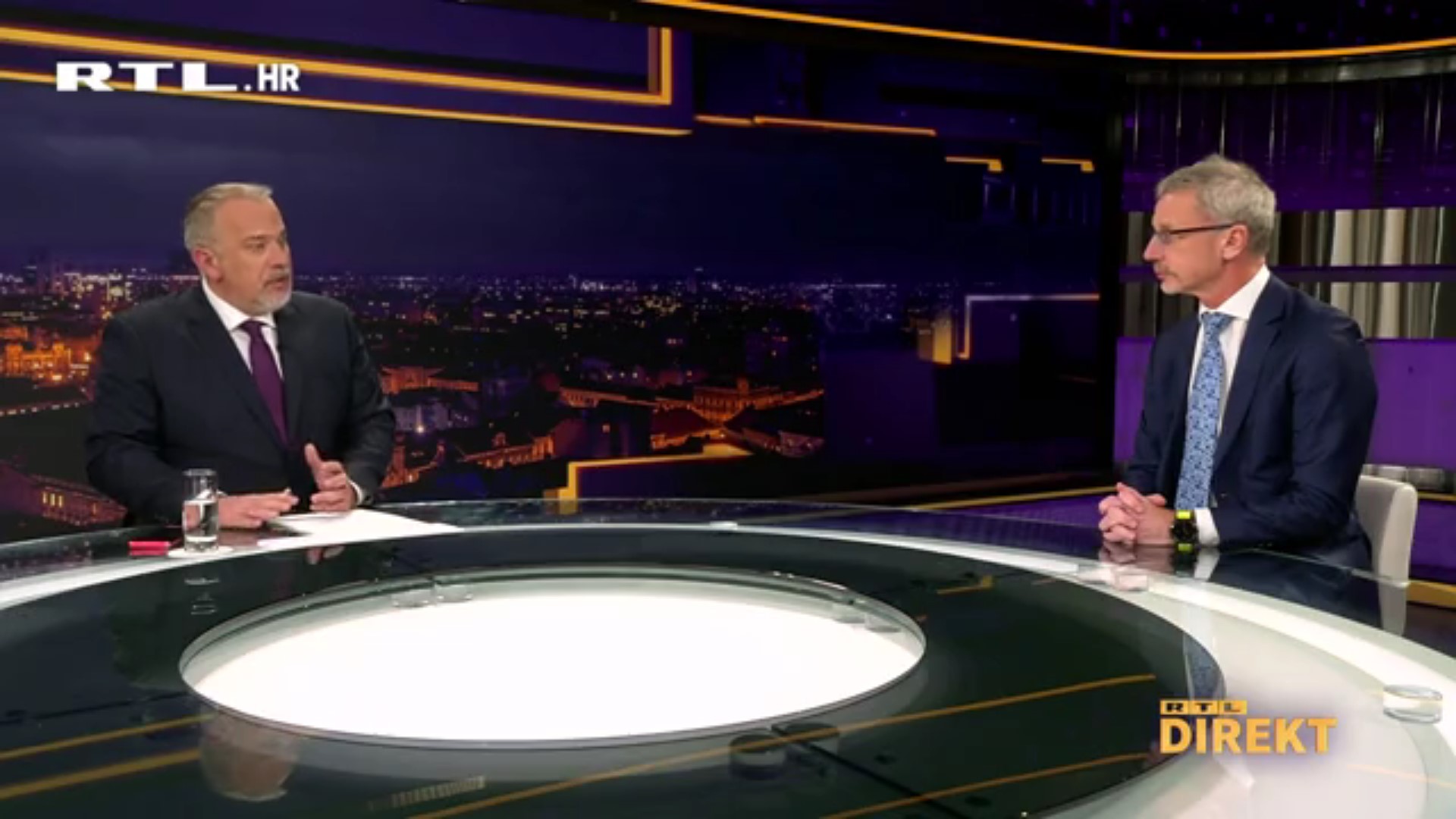 S guvernerom Hrvatske narodne banke Borisom Vujčićem u emisiji RTL Direkt na RTL Televiziji razgovarao je Zoran Šprajc.
Guverner Vujčić na početku je intervjua istaknuo da je zaposlenost u Hrvatskoj na kraju siječnja ove godine gotovo na istoj razini kao u siječnju prošle godine. Pojasnio je da se veća stopa nezaposlenosti ne bilježi zbog državnih potpora tvrtkama koje su došle u probleme, ali i zbog toga što se ova kriza smatra privremenom i prolaznom, šokom koji će se brzo ispraviti kada nestane pandemija, za razliku od prošle krize koja je bila dugotrajnija i kada je bez posla ostalo 400.000 ljudi.
Odgovarajući na pitanje o inflaciji, guverner Vujčić objasnio je da unatoč ekspanzivnoj monetarnoj politici središnjih banaka nije zabilježen veći porast inflacije u potrošačkoj košarici zbog toga što su pale cijene energije i hrane. S druge strane, ekspanzivna monetarna politika rezultira rastom cijena različitih vrsta financijske imovine kao što su obveznice i dionice, ali i nekretnine, koje nisu u potrošačkoj košarici.
Komentirajući štednju građana, guverner je kazao da je ona porasla za 13,8 milijarda kuna u siječnju ove godine u odnosu na isto razdoblje prošle godine.
"Tijekom ove godine dohoci su vrlo malo pali, plaće su čak prosječno rasle zadnjih godinu dana, a ljudi su manje trošili. Imali smo 15 milijarda manje potrošnje, a 13,8 milijarda rast štednje. Znači, ono što ne potrošite to uštedite", kazao je.
Guverner HNB-a pojasnio je da je u ovom trenutku veličina bilance Europske središnje banke 7000 milijarda eura, a da je samo u posljednjih godinu dana ESB povećao svoju bilancu za 2300 milijarda eura, što je velikim dijelom otišlo u depozite banaka kod središnje banke. Međutim, tiskanje novca ne može riješiti realne probleme jer novac je tek sredstvo razmjene, sredstvo čuvanja vrijednosti, ali ono neće proizvesti određene proizvode, naglasio je.
Govoreći o padu dobiti banaka, guverner Vujčić rekao je da se gotovo svaki četvrti kredit u sektoru poduzeća ne servisira kako bi trebao; više od 23 posto kredita poduzećima ima problem s vraćanjem duga, što se odražava na prihode banaka. Osim toga, kamatne su stope bitno pale i kamatni su prihodi niži.
Odgovarajući na pitanje o troškovima koje banke imaju zbog regulatornih propisa u Hrvatskoj, guverner je kazao da su u Hrvatskoj dvije stvari koje su relativno visoke ili više nego u europodručju, a izjednačit će se s uvjetima u europodručju kada uvedemo euro.
"Stopa obvezne rezerve još je uvijek relativno viša nego u europodručju, ali ona će pasti na razinu europodručja za dvije, tri godine. U ovom trenutku, smanjivati ju značilo bi kreirati još dodatni višak likvidnosti koji sada iznosi preko 60 milijarda. Druga mjera bitna je za sigurnost depozita u bankama, a odnosi se na tzv. minimalna devizna potraživanja, odnosno likvidna sredstva koja banke moraju imati u devizama jer većina Hrvata i dalje štedi u eurima, a ne u kunama i to je jednostavno preventivna mjera od koje će se također odustati ulaskom u europodručje'', rekao je guverner Vujčić.
Istaknuo je važnost strukturnih reforma i dodao da su potrebne reforme javne uprave, zdravstvenog sustava, pravosuđa, efikasnosti i sigurnosti dodavši da su neke od stvari koje pogoduju tim reformama ubrzane ovom krizom, kao što je digitalizacija koja omogućava transparentnost poslovanja javne uprave.
Cijeli intervju dostupan je na internetskoj stranici RTL-a.