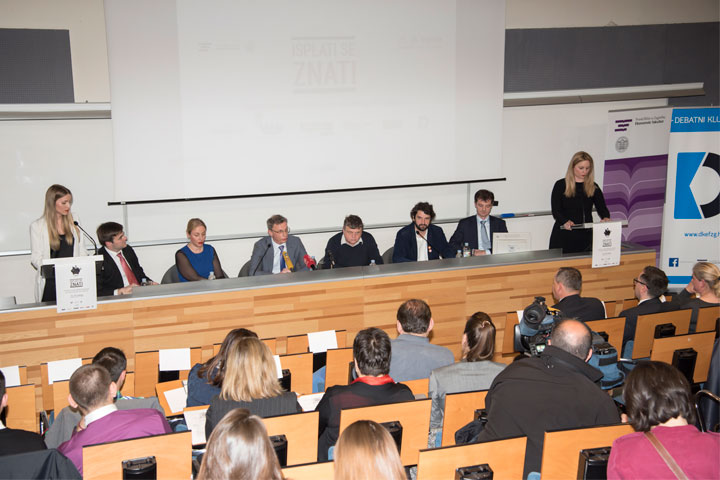 The Croatian National Bank is doing all it can to help raise financial literacy of the young, said Governor Vujčić at the round table "It pays to know", held on 28 April 2016 at the Faculty of Economics and Business, Zagreb. He pointed out that last year the Croatian National Bank had hosted on its premises lectures for over 1 000 pupils and students and that this year even more lectures will be held. However, the Governor stated that this was not enough and that formal education was needed from the earliest age, stating the examples of some countries where financial education is provided already at the pre-school age.
Risks are always present on the financial market, the Governor said, and financial literacy helps us to become aware of those risks. He stated that the research of financial literacy showed that knowledge alone was not sufficient since the results demonstrated that financial knowledge was not associated with behaviour.
The Governor also spoke briefly about the issue of household debt and explained that the analysis of citizens' vulnerability to financial shocks showed that household vulnerability was mostly influenced by changes in employment and the exchange rate and the least by interest rate changes. Stressing that a decision to take out a home loan is the most important financial decision that we would make in our lifetime, he said that we should approach it seriously and get well informed.
The attendees at the round table, organised in the context of the month of marking financial literacy, included Boris Vujčić, the Governor of the Croatian National Bank, Boris Jokić, Chief of the Curriculum Reform, Ivana Jakir Bajo, Deputy Minister of Finance and Chief State Treasurer, Darko Tot, representative of the Ministry of Science, Education and Sports of the Republic of Croatia, Slaven Đuroković, Management Board Member and Partner at Ernst&Young d.o.o., and Tomislav Ćorić, Assistant Professor at the Finance Department of the Faculty of Economics and Business in Zagreb. Marijana Ivanov from the Finance Department of the Faculty of Economics and Business delivered the introductory lecture about the importance of financial literacy for the young and the society. The attendees were welcomed by the Dean of the Faculty of Economics and Business, Prof. Lajoš Žager, Ph.D. and Marko Juričić, Adviser to the President for the Economy.