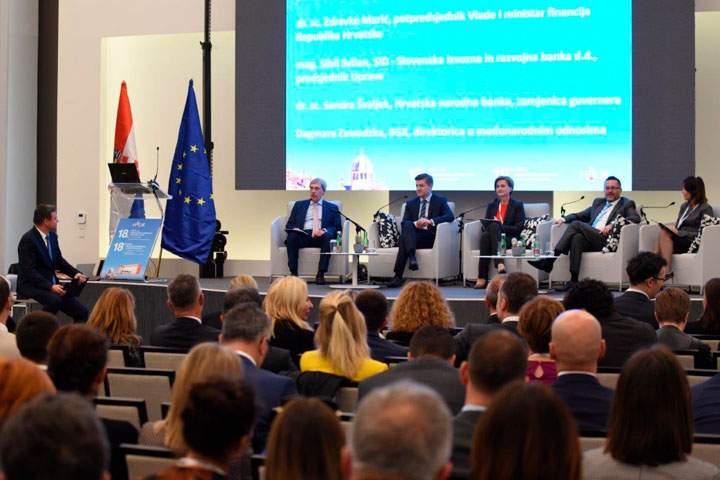 The conversion rate of the kuna to the euro will be set in discussions to be held with the ECB and euro area member states approximately six month prior to the adoption of the euro, explained CNB Deputy Governor Sandra Švaljek at the 18th International Conference on Export Promotion, held on 15 November 2019 in Šibenik.
The conversion rate will probably equal the central parity, which will be known as soon as Croatia joins the ERM II, because the ERM II central parity has been equivalent to the conversion rate for all countries except Slovakia.
It is very likely that this parity will not differ considerably from the levels we have been accustomed to in the last few years, said Deputy Governor Švaljek. The setting of the central parity, that is, the conversion rate of the kuna to the euro, cannot be used to improve the competitive status of exporters by weakening the kuna, as such a move would increase debt repayment burden for many households and entrepreneurs with euro-indexed loans. With the foreign exchange debt of all sectors amounting approximately to HRK 500bn, the potential depreciation of the kuna would increase this debt in kuna terms. The room for manoeuvre in determining the central parity/conversion rate is therefore significantly reduced, so the best option is to set the exchange rate close to the existing level.
The participants in the panel The Impact of Euro Adoption on Exports and Exporters included, in addition to CNB Deputy Governor Švaljek, Zdravko Marić, Ph. D., Deputy Prime Minister and Minister of Finance, Marko Jurčić, Advisor to the President of the Croatian Chamber of Economy, Sibil Svilan, M. Sc., Chairman Of the Management Board of SID Bank (Slovenska izvozna in razvojna banka, d.d.) and Dagmara Zawadzka, Director of the International Relations Department of the BKG (Bank Gospodarstwa Krajowego) from Poland.